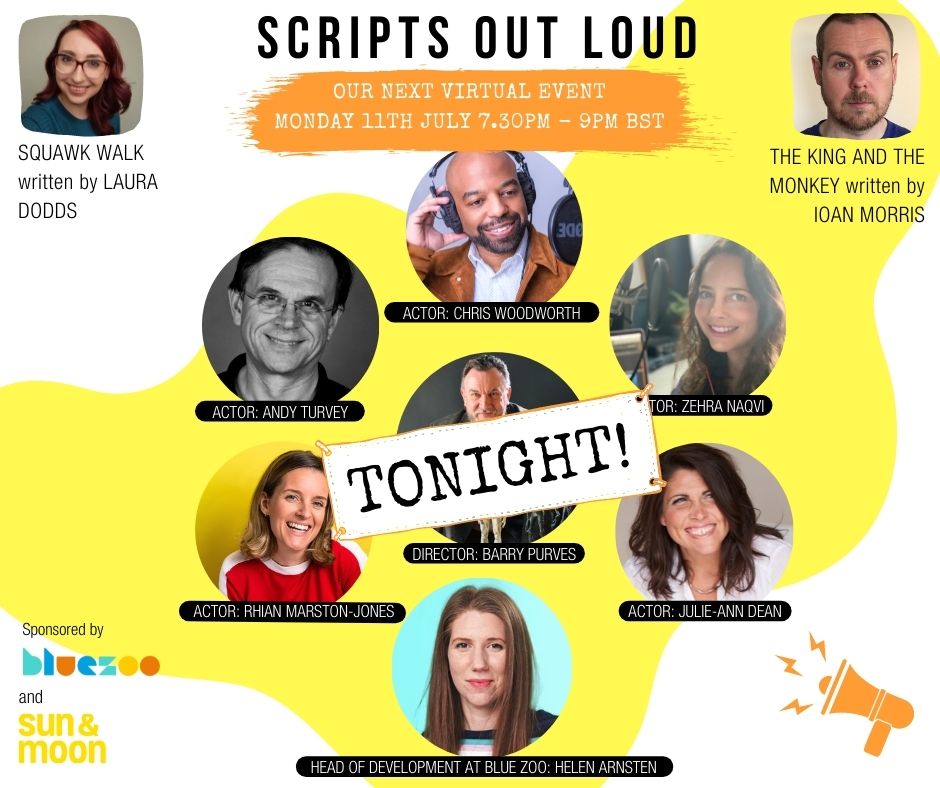 The scripts we explored for this Scripts Out Loud virtual event were:
SQUAWK WALK – written by LAURA DODDS
An animated comedy series for 5-8 year olds.
Meet Priti, Pete and Penny, the new Pigeon family in the neighbourhood of Squawk Walk. They are settling in and meeting their new eccentric neigh-birds, until they realise they've nested in a garden that is also inhabited by a large ginger cat.
THE KING AND THE MONKEY – written by IOAN MORRIS
An animated comedy series for 6-11 year olds.
A deposed monarch and his personal assistant (Monkey, a monkey) are lost in the depths of the Far Forest. After befriending a teenage witch(?) and her trusty attack cat, the quartet begin the journey home. This will be a very long walk.
Joining us for the evening was Head of Development for Blue Zoo Studios: Helen Arnsten, who gave her perspective on the two scripts
Our voice actors were:
Andy Turvey, Chris Woodworth, Julie-Ann Dean, Rhian Marston-Jones and Zehra Naqvi
This event was sponsored by Sun and Moon Studios and Blue Zoo Studios